Connecticut Auto Detailing Service
Contact M&M Auto Detailing today to schedule your detailing appointment!
Remember when business was about you? At M&M Auto Detailing LLC we treat everyone as if they were a member of our own family. Our car detailing customers are what makes us tick, grow, and strive to make improvements everyday. As a car detailer in CT we realized long ago the most important member of our organization is YOU.
We have developed and grown our car detailing business on two basic elements: customer satisfaction and high quality detailing services. Our attention and commitment to detail provides our customers with a properly, professionally detailed vehicle and protection of their valuable investment. The difference at M&M Auto Detailing LLC is simple "we stand behind our workmanship and our customers."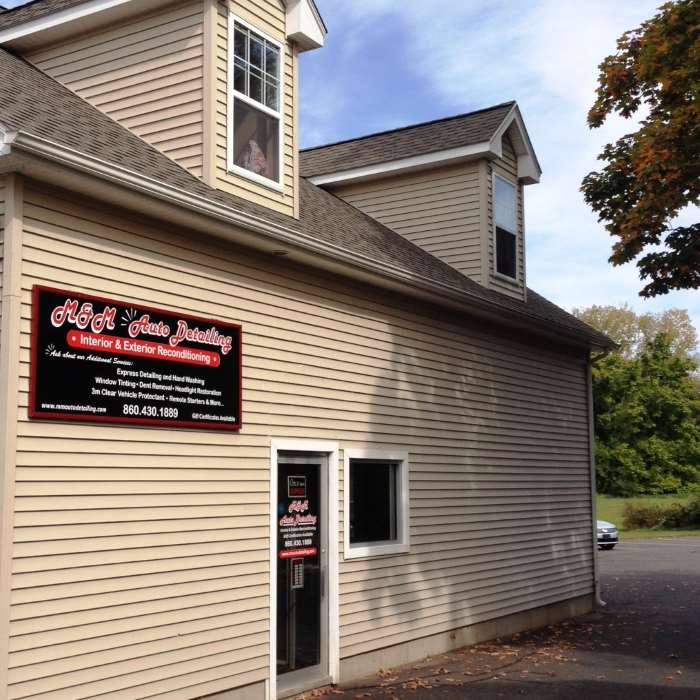 Car Detailing in Connecticut

We are a full service auto detailing facility with everything necessary to get your vehicle looking like it did when it first rolled off the showroom floor! From your standard sedan to trucks, SUVs, classics and exotics – we service all makes and models. We only use the best products with the most effective techniques, learn more here!
Connecticut's Premiere Auto Detailing Service
Mike is a great guy, he can tell if you're into detailing and he'll go into the nitty-gritty details with you (if you like). Great conversationalist. He's even offered me... read more some advice that some detail shops would say is a "trade secret" so I can keep my cars pristine after the fact. I like going to M&M because I know they're taking care of the car and not just "wiping it down". A few years ago I bought a used Lexus and he showed me a pic of the dirty water from cleaning the interior. The dealership insisted it was "detailed". Not until M&M has it, I say! (Pics attached are my Genesis the day of an M&M detail)

Alex Day


August 23, 2023

Haven't used them yet , but got a reasonable estimate for touch-up and wax on my F150.

Tom D


August 23, 2023

Tints came out great, thanks again.

Jason T


June 23, 2023

They got me right the first time. Inside and out. No complaints!

Mo Blake


March 23, 2023

Recently purchased a used car that was exactly what I was looking for except that the previous owner was a smoker. Scheduled an interior detailing and odor removal at M&M... read more and the cigarette smell is completely gone, plus my car interior is cleaner than when I picked it up from the dealer. Would 100% recommend this business.

Jared Gordon


January 23, 2023

Love the work they did in my truck. So clean.

Jose ramirez


December 23, 2022

Bryce Monroe


December 23, 2022

Brought my 2011 Ridgeline here. The paint really needed some help as it hadn't ever been detailed before. It came out looking like a million bucks. The interior was completely... read more shampooed and looked good as new as well.

Dave Morin


November 23, 2022

Mike and his crew did an amazing job on my car. I had a paint correction and exterior detailing done and it looks brand new again! Very pleased and we... read more will definitely recommend them. Thanks again for a great job!

Luciano Pistritto


September 23, 2022

I have been using M and M detailing for years., Bought my car in last week in pretty grungy shape. When i got it back i was amazed. Everything was... read more perfect. In my business i strive for excellent service. I was not disappointed with M and M. AWESOME AS USUAL.

Bob Bentley


September 23, 2022

Katherine Stavens


September 23, 2022

Did a super job for a veteran.

Ross Smith


September 23, 2022

M&M Auto Detailing did a great job detailing my car's interior. I was doing groundskeeping/landscaping for about a year and my trunk was very dirty. I had my car "cleaned"... read more once before by someone else, and they didn't touch my trunk space at all. I'm happy to see they are very thorough, fast, and friendly too. My car looks brand new! Would definitely recommend.

Dani Jo


September 23, 2022

They are awesome. Know their product and offer great service beyond the norm

Aaron Copeland


September 23, 2022

The team at M&M did a great job inside and out with my Chevy Tahoe. It came out great!!! I will use them again!!

Wally Beach


September 23, 2022

Great customer service ! I'll definitely be coming back here

Sherry C


September 23, 2022

Eric Surawski


September 23, 2022

I had food stains on my seats that were several years old, I wasn't sure anyone would be able to get out. Well, they got them out! Scheduling and dropping... read more off my car was easy, my car looks brand new inside, and I'm so happy with the results. Thank you for doing such a great job on my car!

Diana Bump


September 23, 2021

Love This Place

Peter Guerrero


September 23, 2021

I've known Mike, the owner, for quite some time but have never used his auto detailing services until today. Mike and his team detailed my 2019 f150 and I was... read more beyond impressed. From top to bottom, the paint looked pristine and felt silky smooth to the touch. My truck has less than 15k miles on it and I can tell you in all honesty it looks better than when I purchased it. The team at M&M auto detailing are professionals and are without a doubt experts in their craft. I would gladly recommend their services to anyone.

Tim Dugan


September 23, 2021

Made my original appointment and then had to reschedule due to Covid. Was able to get in easily later on, came in for 3M invisible bra and window tinting. Was... read more able to night drop my vehicle so they would bring it in their garage over night, which was awesome. They got my vehicle done by 1pm the following day and was able to pick up and the job looks excellent, could not be happier. My vehicle was kept clean , and the price was excellent for the job done. You will definitely get recommended by me!!

A Smith


September 23, 2021

After having my car for 4+ years, dogs jumping in the back, and stained juice on the seats I finally decided to get the interior detailed. I researched for a... read more while and decided on m+m and I'm so glad I did because it looks just like I did when I bought it! I'm really happy with the service and the great customer service makes the experience that much better. Would highly recommend.

Madison Barba


September 23, 2021

Have had many cars detailed and ceramic coated by M & M Detailing. Always a professional experience and Mike goes way above and beyond to ensure only the best. You... read more and your car will be well taken care of.

Mauricio Ayala


September 23, 2021

Jed Kingman


September 23, 2021

I went in for a consult and the staff were very professional and explained what service is best for me and pricing. I didn't book yet but my experience is... read more worthy of a 5 star review.

Kelly Galligan


September 23, 2021

Mike & the technicians did a fantastic job fully detailing my wife's 2015 Toyota RAV4. Got out the horse hair, dirt, & rocks that our often picked up at the... read more barn where she rides & the car looks just like when we bought it new. Mike was done in half a day & kindly waited for me at 5:10pm to get off from work & pick up the car. Really fortunate to have an operation like this in CT where the state doesn't kick in the extra 8 cents a lb to better protect brake pads & rotors as well the under carry from oxidizing when they salt the roads. Originally being from the south I've learned that folks in New England can be a lot more direct as well as harsh in their conversations, however with Mike I found him to be an exception to the cultural norms, very professional & cooperative in selecting the right package/cleaning products for our vehicle. It's also encouraging to see someone's success from starting a business out of their garage to turning it into a full scale operation that they can use to serve the community & provide for their family. Enjoy supporting small businesses like this who delivers on their service, knowing the dollars paid for a quality job will go back into the local economy to folks running a day care, bakery, restaurant etc.

Kyle Ginn


September 23, 2021

Amazing experience with M&M so far! They were able to accommodate my schedule for services on 3 vehicles in a timely manner. Here is the latest: interior detail, exterior detail,... read more and window tints. Looks like a brand new car, even better than when I first bought it. Mike was very communicative and easy to work with. I will 100% be bringing my business back there!

Mackenzie Manning


September 23, 2021

M & M detailing did an awesome job. Made a 16 year old car look brand new. Very professional and personable to work with. Convenient drop off and pick... read more up. So happy and highly recommend.

Brian Bielot


September 23, 2021

It was my first time going there and was a little skeptical with couple of reviews. I'm convinced it was miscommunication on car owner. They did an awesome job. Inside... read more and out. Bringing wife's car there also soon.

Chris Elliott


September 23, 2020

You can expect excellent work at M&M. My car was recently damaged by over-sprayed paint while a contractor was painting a building nearby, which resulted in a million specks... read more all over my car from bumper to bumper. I met with Mike and Hector and they were able to undo this damage and restored my car's finish back to the day I purchased it! Hector's meticulous work and Mike's follow-up during the job was just perfect. I'm glad to have found such a great detailer and I highly recommend them.

Tom Murtha


September 23, 2020
Fully Trained & Certified Detailing in CT
Contact M&M Auto Detailing
Contact us today to schedule your appointment or purchase a gift certificate!